---
---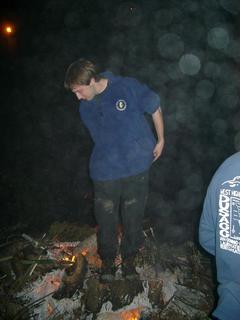 Tim Bray
Spod, software person, trampolining (coaching and judging) and fun.

[This isn't meant to look like a CV, it does seem to look so. It doesn't read well either.]

I have a blog.
Presently
I am living in a house, near Huddersfield, West Yorkshire.
I work for ProVu Communications. They sell SIP voice over IP systems. I am the Technology Director. I've worked there a long time. I program the systems, consult on how SIP works and keep a good background on how the company operates.
I'm a level 3 (club) trampoline coach, a club coach for DMT and a country level judge. Although I am happy form judging at much higher levels.
I can usually be found in the Adults trampolining sessions in Huddersfield.
I'll coach anybody who wants to learn. Whether you are a beginner or have been bouncing for years. I'm not one of these people only interested in elite people who might win at nationals one day.
I take plenty of pictures with my digital camera. I go to the pub.
Summer 2003
I worked as staff for a week at the Wings 2003 International Guide and Scout camp in Windsor. It was fun. I was camped on Virgin Islands sub camp. I helped on the Survivor activity for 2 days, and did the Monopoly Run on Friday.
Ideas
That if you are going to get really good at something. There is no point you being that good unless you pass on some of your knowledge to others.
That it takes 2 people (anymore than 2 doesn't really add that much more) to get something really good going. To exchange ideas and to drive each other on. To do something just for yourself isn't much fun, it needs to be driven on by somebody else.
I like
People who can teach me things. There are always things to learn. Tea.
I also like to think that people can learn things from me.
Bouncing.
I don't like
Boring people, boring pubs, people who don't want to have fun. Excessive Flash.
About me
I never know what colour eyes people have. It isn't something I look for.
I would like to
Work for somebody clever who understands something about me.

Work hard on learning something good. Maybe do a lot more bouncing, or maybe some new adventures in software.

Be creative in everything I do. Creative doesn't mean it has to be artistically creative, but that is good also.

Music

Nothing specific. Because I listen to lots of things. This week it has been 'My Chemical Romance'.

There is just so much good stuff out there, but most people don't know about it, or are only interested in the present fashion to go and find.

If we want to go on just really good tracks, then Van Morrison - Brown Eyed Girl, Simon and Garfunkel - The Boxer. There is loads more, but it just has to be there for the moment.
Near Future
Semi Recently
In Summer 2001, I graduated from Durham University, Department of Computer Science with an honours degree in Artificial Intelligence.

Past work
I've worked for Hoerbiger, BT Exact, Denford, Durham University, Mechtronic. Doing various things including onsite work, Setting up office networks, being an IT manager, making websites, developing software, fixing networks, running servers and doing training.
Interests and Skills
Computers, networks, the web and software development. I have been online since 1994. Long before rapid internet growth started.
Really, I am just a general all round software person.
More recently I have become interested in Unix and Linux. I program in mainly in Python. I also have experience of PHP, Perl, Java and C. HTML and SQL come into it a bit as well. I tend to glue things with MySQL.
Other Random things
In April 2003 I did the Four Inns walk, with Katie, Mary and Dave. 45 miles in 17 hours. I want to do it again next year, hopefully a bit faster.
While in Durham I was a member of dusagg (Durham University Scout and Guide group). I was the Social Secretary for a year. We did fun things, had large fires, drank beer and generally enjoyed ourselves.
I sat on the University of Durham IT Strategy Committee. This guides the IT strategy for the university. Before this I was on the IT users committee.
I was the IT rep for St Johns College. Looked after the College computer room and represented IT issues to the college and the university IT service

I was the Services Manager for St Johns College JCR. I was responsible for the JCR Shop, two Laundries, Vending Machines and College photographs. The job also involved sitting on the Executive Committee of the JCR.
I have done the Masters Hike twice (1995 and 1999). This is a 50 mile walk over open country around Huddersfield, all in one go.
I was a member of Thor Venture Scout Unit. I was their Treasurer for 18 months and I served on their executive committee for most of the time I was a member.
Whilst at Greenhead College I worked on Stage Lighting for several college productions.
Whilst at Salendine Nook High School I worked in the TV studio. We produced a weekly news program which was transmitted to all of the classrooms in the school during tutorial time.
In 1997 I was asked if I could develop an automated testing system for the overflow protection systems used on petrol tankers. I built the tester developing all the electronics and software. I used PIC microcontrollers to control the tester. It was all made at home, and it did work. Both of the units I sold are still in regular use today.
---
---
To get in touch: contact details
page content last modified: 2016 Apr 27 11:25:11 BST
overall page last modified: 2016 Apr 27 11:25:11 BST Why are there 2 dates on each page ?